Dexmet is founded in 1948 year, and it is the world's leading expert in precision expanding technology.For more than 70 years Dexmet has been providing customers with expanded foils and polymers of exceptional quality.Our products,technical experience and superior customer service has made us the global leader in manufacturing expanded thin gauge,micro materials.The products mainly serve in aerospace, wind power, battery, filtering, EMI and other industries.Dexmet is the nominated supplier of aircraft manufacturers such as Boeing, airbus and bombardier,and it is the preferred supplier of international wind turbine manufacturers such as LM, GE, Siemens Gamesa and Vestas.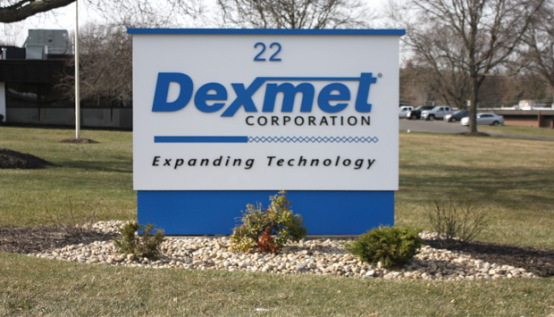 Dexmet has a professional research and development team for different industries. With the special production equipment developed by itself, Dexmet can meet the specific requirements such as accurate opening area and conductivity.All raw materials are in accordance with ASTM standard, and the parameter index is much higher than the domestic standard.
About MicroGrid®
A superior alternative to woven wire, our precision expanded metals are used in a wide variety of applications that require an open-area product. Dexmet expanded metal foils are used for aerospace and wind turbine lightning strike protection, EMI shielding, advanced primary and secondary battery electrode design, automobile bearings and bushings, as well as air and hydraulic filtration systems. All our expanded metals can be tailored to meet specific mechanical and electrical performance parameters. Whether it's EMI shielding effectiveness or lightning strike conductivity, the process of metal foil expansion is infinitely variable and can be fine-tuned to meet your performance specifications. Dexmet MicroGrid® expanded metal foils are available in most ductile metals, or we can work with your proprietary material.
Metals we regularly produce include:aluminum, copper, nickel, cold rolled steel, stainless steel (302, 316, 409, 430), titanium, brass, zinc, Monel™
One-piece, single-unit structure
Eliminates unraveling and contact resistance of woven mesh
Superior shielding, electrical and heat transfer properties
Wide range of sizes, patterns, angles and materials
Specialized process variations, such as flattening, pulling, and annealing
About PolyGrid®
PolyGrid® precision-expanded polymers from Dexmet are used in ultra-pure filters, most commonly in the semiconductor industry where resistance to high temperatures and caustic chemicals is essential. Other uses include the medical, gas, oil and pharmaceutical industries. However, the flexibility of our expanded plastics allows PolyGrid® to be used in many other applications. Dexmet PolyGrid® is available in most polymers or we can work with your proprietary materials. Dexmet meets Clean Room specifications to Class 10,000.
Plastics regularly produced include:
Fluoroplastics:
PTFE, PFA and ECTFE
Polyesters (Thermoplastic):
PET, PETP, PBTP
Polysulfones
Polyvinyls
High Temp Plastics: PTFE (PFOA-free), PEEK, Nylons
A range of standard diamond mesh sizes from .020" to 1.2" is available. The number of openings per square inch can vary from 25 to as many as 11,000, with an open area range from 10% to 90%. The variable open area facilitates lamination with a variety of other materials including those which expand, contract and flex. Designing a precision expanded plastic material with unique characteristics is our specialty. Dexmet's extensive manufacturing resources can accommodate many variations for plastic materials in a range of finished thicknesses.
PFOA-Free Material:
Dexmet Corporation introduces PFOA-Free PolyGrid® Expanded Fluoropolymers. PFOA (Perfluorooctanoic Acid), is widely used as a polymerization surfactant in making fluoropolymers including PTFE, PFA and FEP. Dexmet provides PolyGrid® without this harmful additive for medical, filtration and food processing applications that require a PFOA-free expanded material.